Cheap Office Space For Rent.
Looking for cheap office space for rent in Singapore CBD? We have a beautiful cheap office space for rent in the heart of the conservation shophouse district.
Amoy Street is situated a short distance from Raffles Place and Tanjong Pagar. There are many amenities and services located here. Connection is very easy too as multiple MRT stations can be found near to this location.
Details of Cheap Office Space for Rent
This cheap office space for rent in Amoy Street is on the third level of a three-storey shophouse. It has an attic space and toilet inside the premises. The toilet is located away from the main office space to minimise distraction.
The main area is an open plan office space with the attic directly above it. Beautiful timber floor lined the office area wall to wall. There are also many windows in the front and back of this cheap office space for rent.
There are air-condition throughout the unit and every unit is individually controlled. The layout is also very squarish so it is very easy and efficient for your sitting.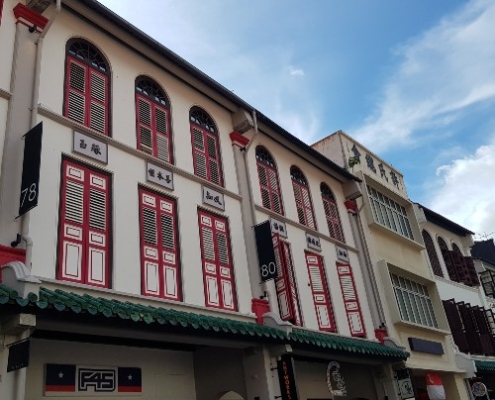 Amenities near Cheap Office Space for Rent
Because this cheap office space for rent is on Amoy Street, the convenience this neighbourhood brings is unparallel. there are so many F&B option available in this area.
From Michelline bib gourmand street food located at Maxwell Food Centre and Amoy Food Centre, hip and trendy restaurants along Amoy Street and Telok Ayer Street.
There are also many gyms located around Amoy Street. Some are located in the shophouse units while others are situated in the retail units located in nearby commercial buildings.
Besides gyms, there are also other kinds of personal services like clinics, childcare centres and beauty salons. In short, Amoy Street is a very convenient location to have your office.
Recently, there are many start-up and established companies that have move into the neighbourhood. Creating more vibes and energy here.
Transportation options here are also plenty. Telok Ayer MRT station is just a few steps away from this beautiful and cheap office space for rent.
If you are using the other lines, you will be please to know that Raffles Place MRT station and Chinatown MRT station are also within walking distance away. However, if you prefer the bus, there are many bus services in and around Amoy Street too.
Getting here via private hire or cab is also very easy as Amoy Street provides easy stopping. There are also parking spaces for the drivers along the road and in nearby buildings.
So see you soon. Call for a viewing now.
Suitable for most business.
Contact us if you like to see more shop space or office space for rent
Tras Street 1200sqft
Call for a viewing today.
If you like to view more office space or shophouse for rent. Call us now. We are happy to assist you.